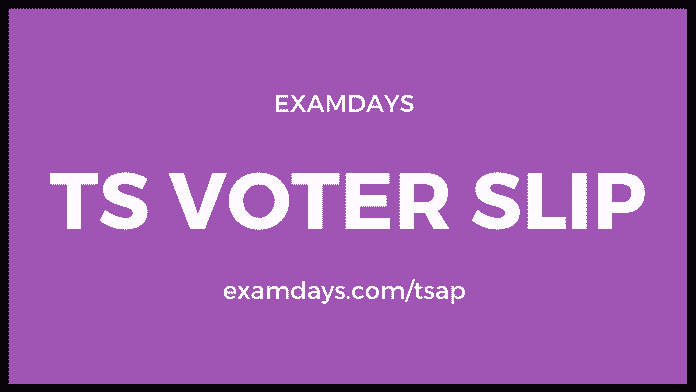 Telangana Voter Slip
Telangana Voter Slip 2020 Download: Telangana State elections are to be conducted on 22.01.2020, those who are eligible can download the voter slip from Telangana Voter official website., Election Commission EC uploaded all eligible voters slips on online.
Eligible candidates have to download the voter slips for casting the vote on 22.01.2020. For downloading voter slips, candidates have to give the location of the voter, and names and date of birth to get a slip.
తెలంగాణ రాష్టం లో ఎలెక్షన్స్ 22 జనవరి 2020 నా అమలు కాబోతున్నది ఇంతవరకు ఎవరైతే వోటు వేసే బూత్ అడ్రెస్ తేలిక పోతే క్రింద ఇవ్వబడిన లింక్ సహాయంతో అడ్రెస్ కాపీ డౌన్లోడ్ చేసుకొని కేటాయించిన అడ్రెస్ సెంటర్ లో వొరు వెయ్యాలి.
Those who are not received Election ID card form for the voting booth location/address, they can download from the below official link and cast the Vote.
Telangana Voter Slip

2020
Visit the below provided official Telangana Website and follow the navigation.
Fill the appropriate voter details like say; name, date of birth, constitute, and other details and click on the submit button.
Once the r slip displayed on the screen, take the print out copy.
Take with an update Aadhar Card for verification of the list.
After downloading the VOter booth location/address, take the print and cast the vote.
Download Telangana Voter Slip – Link 1
Download Telangana Voter Slip – Link 2
How to Download Voter Slip.?
Use the official website tsec.gov.in and use the personal details and get the Voter ID card.
How to find out Voter Booth Location.?
tsec.gov.in site will locate the address of booth for casting vote.
Telangana Purapalaka Election date.?
22.01.2020.
Can I get same voter booth address in the website.?
Yes, Vote candidates can get the same and exact location
How to cast the Vote.?
Download Slip and visit the voting booth and cast the vote.