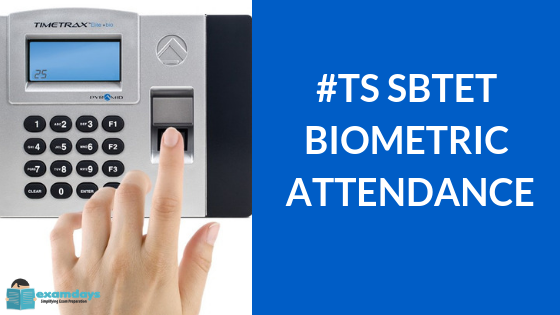 TS SBTET Biometric Attendance 2020: The Telangana State Board for Technical Education and Training (TS SBTET) announced a final announcement for students for who exiting in SBTET Board courses and new students and regular staff members, now onwards Students can avail the biometric count and this option introduced by TS SBTET Board in the month of August 2018. the register attendance cannot be count from November 5th, 2018 onwards.
Diploma colleges took Biometric Attendance Only – No register attendance will entertain for further courses

Telangana State BioMetric Statement for 2020-21 Academic Year
TS SBTET Biometric Attendance
for New TS SBTET academic year biometric will be accepted from the stipulated time period, SBTET students have to report in the college if any mistakes or glitches in the biometric information. Also, take the printout from college management for future reference purpose. Also, check the same in the board website.
TS Biometric Attendance Percentage 2020
75% of attendance is required for the attending of exams
10% of attendance is available on the basis of medical grounds
65% of attendance students are not allowed for the exams and next year/semester.

TS SBTET November 2019 Attendance information was updated in below for Students' reference purpose.

TS SBTET biometric attendance will be taken up to 5th November 2019 only.

Condonation fee will be taken between the 65% to 75% attendance.

Less than 65% attendance, students should attend the extra classes next semester
In the Correction of Odd Semester, the last working day is 02.11.2019 and the examination commences from 04.11.2019 onwards (total 90 working days).
Only 75% of attendance is permitted for the examinations.
10% is added upon Condonation with supporting medical documents.
Condonation fee should pay online only, no offline or DD not entertain.
The principal should approve before 13.10.2019 dated.
Presumptive attendance of 18 days (14.10.2019 to 02.11.2019)
Those should have less than 75% attendance should pay condonation fee for exam hall ticket purpose.
SBTET Attendance Fee
| | |
| --- | --- |
| Attendance Percentage | Fee (Rupees) |
| (TAD/90)=75% | Rs.550/- |
| (TAD+PAD/90)=75% | Rs.550/- |
| (TAD+PAD/90)=65%<75% | Rs.1150/- (Rs.550/- + Rs.600/-) |
| (TAD+PAD/90)<65% | Not Eligible (Candidate Detained) |
TAD: Total Attended Days As On 13-10-2019 by the student only.
PAD: Presumptive Attended Days As 2-11-2019 will be taken as an 18 days
Students have the biometric attendance from November 5th Onwards. If your college not arranged any biometric then inform to TS SBTET Board as soon as possible other students lose the attendance and students have to pay the attendance fine payment to TS SBTET board.
TS SBTET Attendance for Students
No more register attendance in all Diploma Colleges ( No manual attendance will be counted in next semesters)

Only Biometric attendance will be counted for students and staff members.
Everything is online noted (Registration counted for all students)
Students and staff members can access the complete attendance online and monitor them regularly.
Other than Biometric, no other tasks will be entertained for students and staff members.
Students have to give In and Out punches at the correct time in regular and monitor regularly for in-punch and out-punch at college authorities at the computer attendance screen on request by submitting a request letter for attendance monitor.
TS SBTET Biometric Attendance Timings
The TS SBTET biometric attendance timings are 10:00 AM to 05:00 PM (Biometric time is based on the college timings only – When students arrive in the morning session and at what time student leaving).
TS SBTET Biometric Attendance Status
The SBTET Biometric attendance status is available on the TS SBTET students portal, students can log in and check the detailed information on the attendance percentage.
If students and staff members have any questions can comment below, our team member will assist you as soon as possible.
sbtet attendance percentage
How to check TS SBTET biometric Attendance.?
Use this LINK and enter the PIN number and get the monthly wise Attendance.
TS SBTET Official website for attendance is.?
exams.sbtet.telangana.gov.in
What is the Attendance percentage for exams.?
Minimum 75% is required for eligibility.
What is the fine for the less attendance.?
Which is vary as per the attendance percentage-wise, please refer the above tabular form, Read More Info
TS SBTET biometric attendance check
Use the above link and get the monthly wise attendance report.
ts sbtet biometric attendance percentage 2019
Download the monthly wise resport from above link.