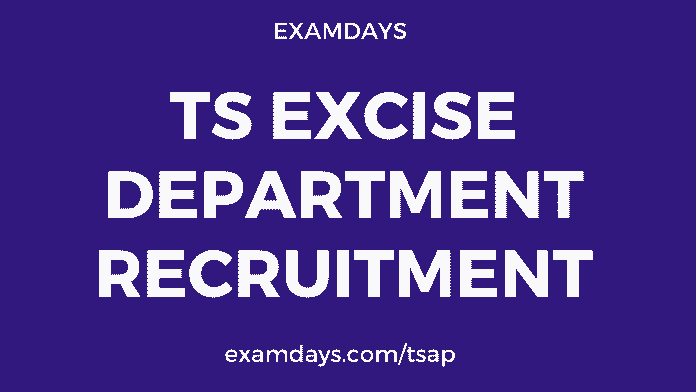 TS Excise Department Recruitment Telangana State Government has released a revised excise department notification to fill the vacant position in the dept. Almost 131 vacancies are available in the excise dept and Govt approved these posts under the GO No. 94. The GO released by Chief Secretary Somesh Kumar on 02.09.2020. Candidates can check the detailed notification of the TS excise department notification.
Recently, the TS excise department has closed Junior Assistants, Drivers, Helpers, Office Subordinates, Sweepers, Typists, Watchmen posts and in place of these new posts are added. The new posts list is added for the candidate's reference purpose.
But, the Government of Telangana does not mention the "New Notification Date" yet, as per sources, it may be released before November 2020. The excise department team has worked on it, its recruitment may be transferred to TSPSC or Own guidelines, but it was not confirmed yet.
TS Excise Department Recruitment
| | |
| --- | --- |
| Name of the Authority | Telangana State Public Service Commission |
| Post Name | Various Posts |
| Number of Posts | 131 Vacancies |
| Qualification | Intermediate & degree |
| Age Limit | 18 to 44 Yeas (not confirmed) |
| Last Date of Apply | Available Soon |
| Selection Procedure | Written test, Interview & CV |
| Official Website | tspsc.gov.in |
TS Excise Department Notification
తెలంగాణ రాష్ట ఎక్సైజ్ డిపార్ట్మెంట్ లో 131 నూతన పోస్టులకి నాంది పడింది, రాష్ట ప్రభుత్వ చీఫ్ కార్యదర్శి సోమేష్ కుమార్ GO 94 ను 02.09.2020 తేదీ నాడు విడుదల చేశారు, ఎంత వరకు ఉన్న పాత పోస్టులను మూసి వేస్తూ , కొత్త పోస్టులను విడుదల చేశారు, అయితే (TS excise department notification)
రిక్రూట్మెంట్ ఎప్పటినుండి మొదలు పెడతారో ఇంకా సమాచారం లేదు, అయితే నవంబర్ 2020 కంటే ముందే నోటిఫికేషన్ ని విడుదల చేసే అవకాశాలు ఉన్నాయి. కానీ ఇందులో ఎలాంటి కచ్చితమైన సమాచారం మాత్రం లేదు, అబ్యర్డులు గమనించగలరు.
ఉద్యోగం ఎక్కడ పోస్టింగ్ ఇస్తారు
అమీర్ పేట్
సికేంద్ర బాద్
ముషిర బాద్
శంషాబాద్
శేరిలింగం పల్లి
సరూర్ నగర్
హయాత్ నగర్
కుబ్థుల్ల పూర్
బాల నగర్
ఘత్కెసర్
ఉప్పల్
మల్కాజ్ గిరి
పటాన్ చెరువు
హన్మ కొండ
మొత్తంగా 14 ఎక్సైజ్ స్టేషన్లు కూడా ఏర్పాటుకు ఇదే జి‌ఓ లో పేర్కొన్నారు.
Telangana Excise Vacancies
| | |
| --- | --- |
| Name of the Post | Vacancies |
| Additional Commissioner | 1 |
| Joint Commissioner | 1 |
| Deputy Commissioner | 3 |
| Assistant Commissioner | 4 |
| Excise Superident | 12 |
| ASI | 9 |
| Inspector | 18 |
| Sub Inspector | 2 |
| Head Constable | 14 |
| Constable | 19 |
| Staff officer | 5 |
| Assistant Superident | 25 |
| Senior Assistant | 18 |
| Total Posts | 131 |
TS excise department notification
Important Dates
TS excise dept. online application date: Available Soon
TS Excise dept application last date: NA
TS Excise TSPSC application fee date: NA
TSPSC Excise Department Online Application
Eligible candidates have to visit the official website of TSPSC tspsc.gov.in
Select the notification and read the application form instructions.
Select the post before filling the online application form and submit it accordingly.
After submission of the online application form, take the print out for the reference.
We have given some available information on ts excise department notification, further information will posted and updated this page for candidates reference purpose.
TSPSC Excise Department Notification PDF
TS Excise Department Recruitment
The TS excise department recruitment is completely based on the pure merit list basis, candidates should prepare for the exam as per the post wise exam pattern and syllabus, these details will be updated on this page soon. Bookmark this page for reference.
TS excise department recruitment will be begin in upcoming month (expected date) and this recruitment will be handled by the TSPSC dept as previously it did.
Telangana Excise Department Jobs
TS Excise Department Notification date?
Expecting in the month of October / November 2020
Who is the TS Excise Department recruitment authority?
TSPSC will take the authority for the recruitment, earlier also TSPSC has completed in 2016 year – check the notification
TS Excise Department official website?
tsbcl.telangana.gov.in
How to submit the excise online applicaiton form?
Submit via TSPSC official website tspsc.gov.in