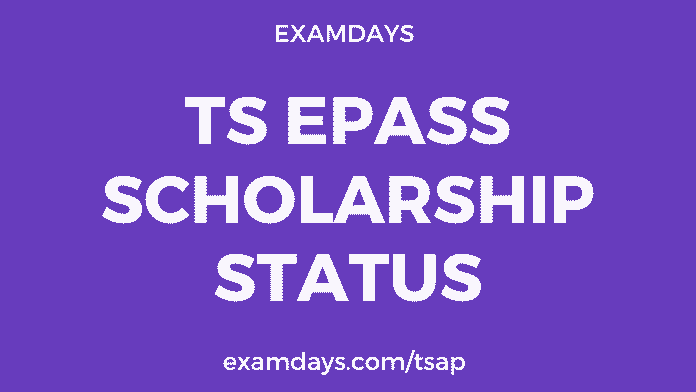 TS ePass Status
TS ePass Scholarship Status 2023: The scholarship is financial support for the economically weak in background candidates for studies and sustains needs, students under below poverty line BPL are eligible for state and national level scholarships as per the Government of India GoI education norms. Students who are looking for scholarships and course reimbursement, then check the rules, where course pay reimbursement is available, and its guidelines for eligibility.
For TS ePass, the status is available for the earlier academic years, Students who are looking for the reimbursement and scholarship status have to check the detailed TS ePass Status, The related information is available on the official website. Check the TS ePass scholarship information on this page for reference purposes.
TS ePass Scholarship
What is TS ePass
How to get the TS ePass Status
What are the Scholarship Criteria
Who is Eligible for the TS ePass
Are they bank Transfer or Direct Hand Cash
Why they are providing
TS ePass Status Information
What courses are eligible
What are the types of TS ePass Scholarships
Is a monthly basis or Yearly basis scholarship
How much they pay per month
How to Apply for TS ePass Scholarship
What is the difference between the New and Renewal Scholarships
What is TS ePass Scholarship Status
How they calculated college reimbursement
If the Scholarship is not credited, Where Should I contact
When we talk about Telangana State, the Late YS Rajashekhar Reddy introduced Course Fee reimbursement in 2008 for BPL students who are struggling with education fees with fantastic talent and merit level basic eligibility. Surprisingly, this course fee reimbursement is also available for OC (open) category candidates under the BPL level.
After the separation of Telangana and Andhra Pradesh during the 2014 state formation, all the schemes are changed accordingly to individual states' political agenda policies but Fee reimbursement was not changed, it continued for BPL students in twin Telugu states. The details were ts ePass scholarship status available.
In Telangana State (TS) eligible students for both a few reimbursement and scholarship under one account, students can track their scholarship and fee-sanctioned status. And Telangana State Government has made significant changes in the consideration for the student side to avoid the misuse of scholarship and fee reimbursement by college/university admin departments.
These changes are helpful for the students can track fee reimbursement and scholarship status every month and every semester or year wise. The scholarship granted and pending or rejected status information and reasons in the student scholarship account. After submission of details candidates have to check the details about TS ePass scholarship status.
Who are Eligible
It's purely merit-based scholarship, and 100% eligibility is considered for the right students, let's check the bullet point for the eligibility conditions from the TS Education department.
* Important document and it is mandatory for the submission of TS ePass.
*A student from Telangana State (native), earlier studies in Telangana State.
*Should have Aadhar Card, Latest Income Certificate, Caste Certificate, and Residence Certificate.
*Educational certificates as on (originals scanned copies).
*Latest Passport Size Photos.
*Working Mobile Number.
Email ID (if possible, it is optional, not mandatory).
Eligible Courses
Currently, the Telangana Educational department is providing reimbursement and scholarship for both Graduation and Post Graduation courses.
Any technical and non-technical course is eligible for UG and PG levels.
Medical & nurse and other Full-time courses eligible.
Only full-time courses are eligible
Vocational courses are not eligible
Part-time courses are not eligible
Distance Courses are not eligible.
TS ePass Scholarships Types
Well, in TS ePass Scholarship, there are two types of scholarship services are available, which are; The detailed information was listed for the TS Scholarship.
Pre-Matric Scholarship
Post –Matric Scholarship
Pre-Matric Scholarship
The pre-matric scholarship is a new scholarship, which begins from before course start or beginning of the course (mainly it starts from the 1st year or 1st semester of course). Students should opt for the pre-matric scholarship service and finish the application form accordingly.
Post –Matric Scholarship
The post-matric scholarship is a renewal of existing scholarship, which begins after the course or duration of the course or continued. If a student submitted prematric scholarship application form earlier, for the continuation, of course, have to opt for the Post-Matric scholarship and submit the application accordingly.
Is a monthly basis or Yearly basis scholarship?
TS ePass scholarship granted as per the Semester wise, including fee reimbursement. The student has to track the status in the TS ePass portal on regular semester wise, if any discrepancies found, then immediately inform to College/University Scholarship and Admission department for clarification and immediate solution.
How much TS ePass Scholarship Payment?
Well, the TS ePass scholarship payment based on the yearly wise scholarship increment and college admission fee and course fee (yearly). The student should contact the scholarship & admission department for present payment details. By the way, Scholarship includes the Mess fee, hostel fee, library fee, sports fee, and personal pocket money.
How to Apply for TS ePass Scholarships
Students should use the TS ePass official website portal for both Scholarships as well as fee reimbursement; scholarship online application procedure well explained in below pointwise, students have to refer the details, if any clarification needs, then use the below comment box.
Visit the TS ePass official website telanganaepass.cgg.gov.in
Navigate the website portal for various scholarship services and schemes available.
For new applications, select "Pre-Matric scholarship services", and for already availing students has to choose "Post-Matric Scholarship Services".
Submit the TS ePass scholarship application accordingly.
Important Points to Remember for Online Application
Take the original documents scanned copies, save in JPEG/JPG or PDF format.
Take a scanned copy of recent passport size photo in JPEG/JPG format.
Take all educational document scanned copies in JPEG/JPG format.
Retain with Aadhar Card Number, and it registers mobile number.
If your email id, then uses it (if applicable) or it optional in the application form.
What is the difference between the New and Renewal Scholarships?
New applications enrolled as a pre-matric scholarship and renewal as a postmatric scholarship.
TS ePass Scholarship Status
After submission of scholarship, students can check the status of the application or scholarship or fee reimbursement. The complete status is available after one week or 7 working days of the application submitted. If students observed no changed even after the above specified time frame, then contact the college admission and scholarship department.
The Details about the TS ePass Scholarship Status is important for the verification of scholarship and fee reimbursement.
TS ePass Fee Reimbursement
Fee reimbursement is calculated and finalized by the Telangana Government education department as per the college standards under tier 1, 2, and 3 tier groups, based on that, college fees, will be finalized, and the same reimbursed to the college admission fee account yearly wise.
Ts ePass Help
If students have any difficulties while submitting the online application (technical or other errors), then contact the college management for immediate help and also contact the ts ePass helpline number and below address.
TS ePass Contact Address
Project Monitoring Unit (PMU).
SPIU, Ground Floor, Damodaram Sanjeevaiah Sankshema Bhavan (DSS Bhavan)
Opp: Chacha Nehru Park, Masab Tank, Hyderabad
Phone: 040-23390228 (General Issues) and 040-23120311, 040-23120312 (Technical Issues)
Working days: 10:30 A.M. to 5 P.M and e-mail: [email protected]
TS ePass WhatsApp / Telegram Students Group.?
Join Here for TS ePass Scholarship Questions and Answers
How to check the TS ePass Status?
The detailed information were available on the TS ePass status website.
What is the TS ePass Postmetric Scholarship date.?
As per the scholarship wise.
How to apply for TS ePass Scholarship.?
Visit the official website telanganaepass.cgg.gov.in and click on the appropriate scholarship link and fill the application form accordingly.
Is the Gap certificate required.?
Yes, It is required.
The server is too busy, What Can I do.?
Apply in non-rush timings like early morning and afternoon sessions.
Is the bank account is important.?
Yes, Eligible students will receive the monthly scholarship.
Nonlocal Students are eligible.?
Yes, Non-local students can apply in Non Local category application.
Is there any Whatsapp or Telegram Group to discuss Ts ePass related issues.?
Yes, Pls check the above Telegram link.
How to get the detailed information of TS ePass Status?
Only ePass scholarship website gives more information on this.