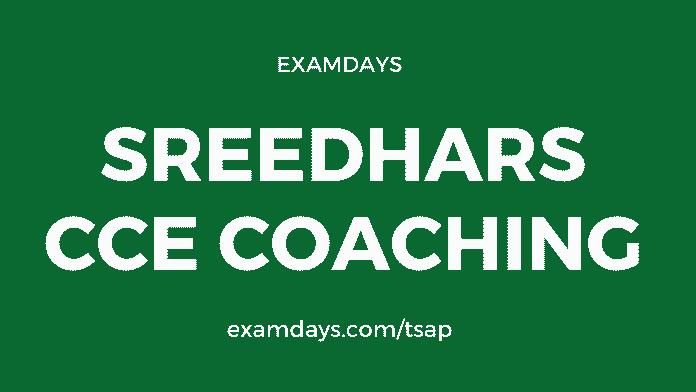 Sreedhars CCE is a College for Competitive Exams where is providing offline and online classes for the various bank exams IBPS, Railways RRB, and State PSU exams, Technical courses, and nontechnical courses classes for 20 years. If you are looking for the Sreedhars CCE video classes then it is the best platform for the video classes. CCE training from experienced and highly qualified faculties from Telugu and English medium bilingual languages. The video classes are available in both languages as per the candidate's choice of selection at the time of video class enrollment.
Also, Sreedhars CCE is also providing free online video courses for poor and rural background students and who are seeking under-budget online video classes. Sreedhars CCE is providing Free campus recruitment training programs CRT, which helps to crack the software IT domain exams and interviews. Also, check the Sreedhars CCE Hyderabad some of the famous institutions across Hyderabad city.
This institution also called a SreedharsCCE for best and well online and offline coaching purposes. Well, the complete details are described. Candidates can check the details before purchasing the online coaching classes and mock test series (bilingual languages).
Andhra Pradesh Govt Jobs and Telangana Govt Jobs.
Sreedhars CCE
There are a lot of students who are from Sreedhars CCE who are taken training under the CRT panel, they are very successful in campus interviews and other governmental and private jobs. Just candidates have to enroll in the CRT course or any banking, railways, SSC, or any other courses for the instant online learning courses.
Sreedhars CCE Special
Online Live Classes
Daily classes / Everyday new video from respected faculties
Daily explanation classes
Library
Study material
Computer lab facility for the national and international activities knowledge.
Regular /daily online tests
Email and SMS alerts from Sreedhars CCE administration department for the upcoming exams and classes.
Sreedhars CCE Results information on the real-time online.
In Sreedhars CCE, there are multiple packages is available and designed for the candidates chosen, candidates have to visit the official website and check the detailed information about Sreedhars CCE coaching classes and offline classroom coaching classes.
Every year, there are hundreds of candidates are coming out with successful results, who are getting jobs in various fields like banking, SSC, Railways, Software IT domain, and other fields.
Sreedhars CCE Hyderabad
Sreedhars CCE coaching center located near Ameerpet center in Hyderabad, which is the most popular place for the various online coaching centers.
Most of the students and job aspirants are taking coaching in this Hyderabad branch for the various courses including banking, railways, ibps banks, public sector unit, software IT, and other courses purpose. Sreedhars CCE Hyderabad branch is one of the best branches in India, Where it holding the best faculty and expert advice counselors.
Sreedhars CCE Hyderabad best for the learning skill and interview classes very helpful for aspirants, with these skills, anyone can crack the exam. All staff member are well-experinced persons
Apply for State Wise Govt Jobs
In the Sreedhars CCE Hyderabad branch, the library will open from morning 07:00 AM tonight 10:00 PM, any students can access the library (book study room as well as a computer lab for online studies purpose). Sreedhars CCE institute not only for the job crack it is also helpful for the knowledge building and which is definitely helps in various competitive exams.
There are many Sreedhars CCE Hyderabad branches are available, we have listed some of the branches, which are;
Sreedhars CCE Ameerpet Address
Flat No : 109, I-Floor, PANCOM Business Centre, Opp : JC Brothers, Main Road, Ameerpet, Hyderabad. Ameerpet, Hyderabad, India – 500082
Sreedhars CCE Academy Madhapur Address
#403, 4th floor, Apurupa Kushi, Adjacent to Madhapur police station, Opp Benz Showroom, Madhapur, Hyderabad, Telangana 500081
Sreedhars CCE Kukatpally Address
2/22/139/1, HMT Rd, Bhagya Nagar Colony, Kukatpally, Hyderabad, Telangana 500072
Sreedhars CCE Dilsukhnagar Address
Opp:CMR Shopping Mall,Prasanth Complex,2 nd Floor, Adove Madhura Sweet House, Dilsukhnagar, Hyderabad, Telangana 500060
Sreedhars CCE Ashoknagar Address
1-10-233/f ashoknagar signals, Main Road, Hyderabad, Telangana 500020
Sreedhars CCE Chudi Bazaar Address
Nayee Basti, Shah Inayat Gunj, Chudi Bazaar, Hyderabad, Telangana 500012
Sreedhars login
Already enrolled for Sreedhars CCE video classes and looking for online access and facing the issues with online video classes access then no need to worry, follow the below instruction to access the Sreedhars login page and get the online classes.
Sreedhars login is depended upon the two types, candidates have to access the login page as per the below choices;
Classroom students Logins
Online Student Logins
Candidates have to use the Sreedhars CCE login crentials on Sreedhars login page;
Enter the Sreedhars CCE Registration number
Enter the "Password".
Select the Sreedhars CCE branch (Enrolled branch by the candidate).
The above information is enough for the video classes and online test access in seconds, if you missed or forgot about login credentials then no need to worry about it, Just use the "Forgot password" and reset the password with help of the CCE registration number.
Remember, the Sreedhars CCE registration details most confidentials and not to share anyone include friends and well wishers.
How to Reset the Sreedhars CCE password?
After visiting Sreedhars CCE login page, click on the "Forogt Password", now it redirect to the another page, Where candidates have to provide trhe below details;
Sreedhars CCE Register Number
Select the Branch name (Opted by candidates at the time of registration).
Sreedhar's CCE login Free Online Classes
Are you looking for Sreedhar's CCE Free Online Classes, If yes.!!!, We will guide you on how to access the Sreedhars CCE Free online classes; Follow the below instructions and register online instantly.
The following subjects are teaching in online free classes;
Reasoning
Arithematic
English
Current Affairs
Banking Awareness
Bank previous papers explanation and paper solving.
Only, above subjects are explained as per the sectional wise, daily one section will be covered by the respective faculty member, and those videos are uploaded freshly by the CCE admin team.
Candidates have to register for the above free online courses, and the registration method will be given some instructions, which helps the candidates.
Sreedhars CCE Free Online Classes registration
Visit the Sreedhars CCE online link http://freecoaching.sreedharscce.com/
Now, Check the complete monthly wise schedule for the online classes and time for section-wise online video classes, these classes are thought by the experts and experienced faculties across India in Telugu and English medium,
Click on the "Register Now!" button (right top side).
Now enter the following information;

Full name as per the SSC/10th class Certificate.

Create your own password.

Select the Gender "male" or "female".

Select the language "Telugu" or "Tamil" or "English" or "Hindi".

Now, click on the Register button.
Now, candidates will receive the email and SMS along with the CCE registration number.
Also, the screen will show the CCE register number, use this registration number for the online Sreedhars login purpose.
After Sreedhars login success, then you can access the online classes as per the scheduled wise.
Sreedhar CCE referral code
Sreedhar CCE online coaching is actually provided some benefits for the candidates with an online course discount upon the referral. The referral will help to obtain some points and enable some premium course access.
How to check my referral code in Sreedhar CCE account?
On the Sreedhar CCE login page, candidates have to navigate to the dashboard and below, check the referral code. Share that referral code with friends and get join them in Sreedhar CCE and get the bonus points in your account. Use those referral points for premium course access purposes.
The Sreedhar CCE referral code looks like SR-XXXXXXXX (Where X is the registration number).