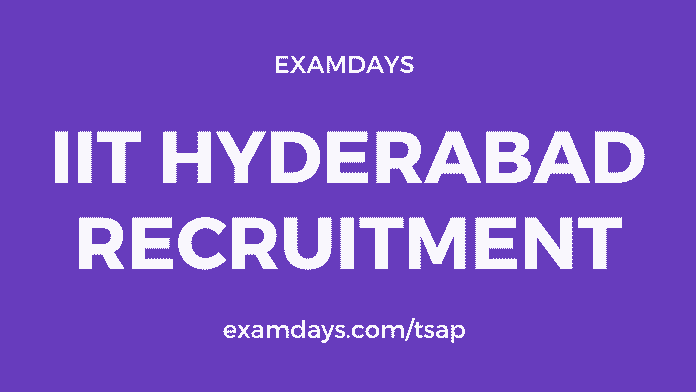 IIT Hyderabad Recruitment 2023: Indian Institute of Technology IIT Hyderabad recruitment has released Non Teaching notification Posts to fill the 152 posts for FY 2020-21. Online applications are invited from the eligible candidates for various posts. The completed posts are listed below for the eligible candidate's reference purpose.
Go through the various Non-Teaching posts and apply accordingly. Before filling the online application form, candidates can verify the Eligibility, Age Limit, Selection Procedure, Important Dates, Application Form.
ఐ‌ఐ‌టి హైదరాబాద్ నాన్ టీచింగ్ నోటిఫికేషన్
ఇండియన్ ఇన్స్టిట్యూట్ ఒఫ్ టెక్నాలజి ఐ‌ఐ‌టి హైదరాబాద్ 6నాన్ టీచింగ్ పోస్టులకు దరఖాస్తు ఫారం కోరుతుంది అర్హులైన అభ్యర్డుల నుండి. కావున అర్హులైన అభ్యర్డుల నుండి Last తేదీ లోపల దరఖాస్తు ఫారం ఆన్లైన్ లో పంపావలసి ఉంట్టుంది.
పోస్టుల వివరాలు
టెక్నికల్ ఆఫీసర్
మెడికల్ ఆఫీసర్
అసిస్టెంట్ రిజిస్ట్రార్
సేఫ్టీ ఆఫీసర్
వెటెర్నరీ డాక్టర్
అసిస్టెంట్ ఇంజినీర్
లైబ్రరి ఇన్ఫర్మేషన్ అసిస్టెంట్
ఎగ్జిక్యూటివ్ అసిస్టెంట్
ఫిజికల్ ట్రైనర్
MTS ముల్టీ స్కిల్స్ అసిస్టెంట్
సిస్టమ్ ఇంజినీర్ రిజిస్ట్రార్
మరియు ఇతర పోస్టులకు దరఖాస్తు ఫారం కోరుతుంది.
IIT Hyderabad Notification 2023
| | |
| --- | --- |
| Name of the Authority | Indian Institute of Technology Hyderabad (IITH) |
| Post Name | Non Teaching posts |
| Number of Posts | 06 Vacancies |
| Qualification | As per post wise |
| Age Limit | max 35 / 45 Years |
| Last Date of Apply | 03.04.2023 |
| Selection Procedure | Written /Skill Test & Interview |
| Official Website | iith.ac.in |
IIT Hyderabad Eligibility
Candidates should have eligibility as per the post wise. Refer to the below notification PDF document for the qualification verification purpose.
4 Years B.E/B.Tech.
3 Years Diploma.
Post allocated in Hyderabad Campus only.
Age Limit
for Junior level posts: Max 35 Years
for Senior Level Posts: Max 45 Years.
IIT Hyderabad Selection Procedure
Written Test / Skill Test
Document verification
Interview
Important Dates
Announcement of IIT Hyderabad notification: NA
IIT Hyderabad online application form: NA
The last date of the IIT Hyderabad application form: NA
IIT Hyderabad Application Form
Eligible candidates can fill the online application form before the last date of the application form.
After submission of the online application form, take the print out for future reference.
IIT Hyderabad Non-Teaching Notification PDF
IIT Hyderabad Exam Date
The IIT Hyderabad Non Teaching exam scheduled is decided by the recruitment and it informed to eligible candidates on the IIT website only.
Frequently Asked Questions
What is the Last date for the IIT Hyderabad Non Teaching Posts.?
Available Soon
Is there aby offline application for IIT Hyderabad.?
NO
What is the IIT Hyderabad Non Teaching Selection Procedure.?
Written Test, Personal Interview.
How many IIT Hyderabad Vacancies 2023?
06 Vacancies.