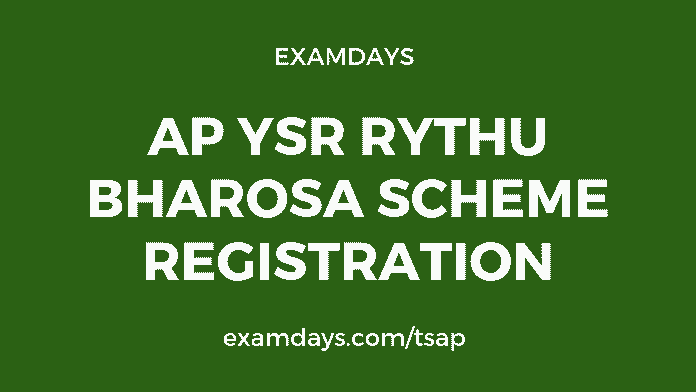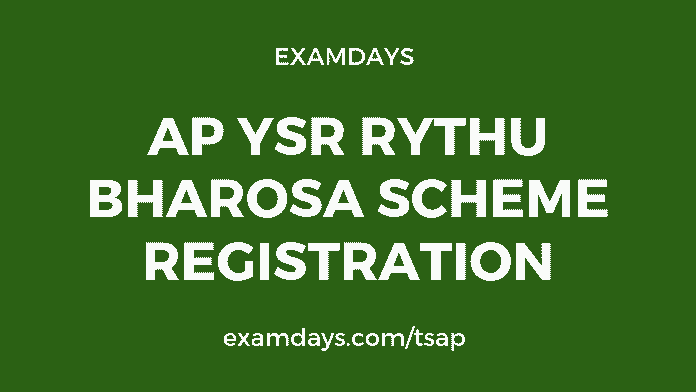 AP YSR Rythu Bharosa Scheme 2023: Andhra Pradesh State Chief Minister YS Jagan Mohan reddy announced YSR Rythu Bharosa Scheme for Agricultural formers, The complete eligibility, registration process, and other important details have listed in this post.
The AP Welfare Agriculture Department, Govt. of Andhra Pradesh, the official website for the Scheme is ysrrythubharosa.ap.gov.in. Eligible applicants should apply online and get approval from the Agricultural department. Eligible candidates, who are still NOT applied, have to submit the online application form.
AP YSR Rythu Bharosa Scheme
| | |
| --- | --- |
| Name of the Authority | Andhra Pradesh State Welfare Department |
| Name of the Scheme | YSR Rythu Bharosa |
| Scheme Payment per Annum | 12500 (Increased to 13,500) |
| Eligibility | Various as per the different Farmer |
| Registration Starts Date | 13.05.2021 |
| Last date of the registration | Not Available yet |
| Selection Procedure | Based on the Farmer's Eligibility |
| Official Website | ysrrythubharosa.ap.gov.in |
AP YSR Rythu Bharosa Scheme Eligibility
The farmer should be a permanent resident of Andhra Pradesh State.
Farmers should have a minimum of 1 acre for agriculture, horticulture, or sericulture.
1/2 acre for the tenant farmer grows vegetables, flowers & fodder crops.
0.1-acre area for better vines.
AP YSR Rythu Bharosa Scheme Documents
Applicants should have below important documents for the verification time, the required original and 2 set
Recent Passport photocopies
Applicant Aadhar Card
Resident Certificate/Any related one
Domicile proof document
Income Certificate from AP govt.
Agriculture Land Proof document by Welfare dept.
Any Bank Account record
AP YSR Rythu Bharosa Scheme Application Form
Eligible candidates have to fill out the online application form before the last date end,
Make sure that, all the entered details are as per the submitted documents.
Applicants' documents should go for review/verification process.
After review, applicants get the AP YSR Rythu Bharosa Scheme status report via SMS  for confirmation.
AP YSR Rythu Bharosa Scheme Online Application Form
AP YSR Rythu Bharosa Application Procedure Manual PDF
If applicants have any questions or doubts regarding the Rythu scheme, use the below comment section for clarifications.
What is the Rythu Bharosa scheme?
It is a farmer scheme for Andhra Pradesh, who are looking for funds for farming, Govt of AP will support it with a certain amount.
AP Rythu Bharosa scheme payment status?
Use the registration number and generated Password/Mobile number and once the login is successful then check the status of the payment process.
How to apply ap rythu bharosa scheme?
Use the Aadhar Card, Farm Land details and Village address details at the time of registration time.
How to apply rythu bharosa scheme in ap online?
Visit the AP Online and Submit the required documents, once the submission is done then take the acknowledgment form for reference for status tracking purposes.
Rythu bharosa status check?
Login and check the payment status, make sure that, bank details should be correct.
Rythu bharosa kendram?
Inquiry in the near Sachivalayam office for more details about Kendra.
rythu bharosa scheme launched by which state?
Andhra Pradesh
Rythu bharosa scheme details?
Farmers who have land as per the scheme eligibilities.
rythu bharosa scheme upsc?
Scheme belongs to the AP state and it was launched by C YS Jagan Mohan Reddy.
rythu bharosa scheme in ap list?
Yes, Rythu Bharosa Scheme is available in the AP (Andhra Pradesh) List.