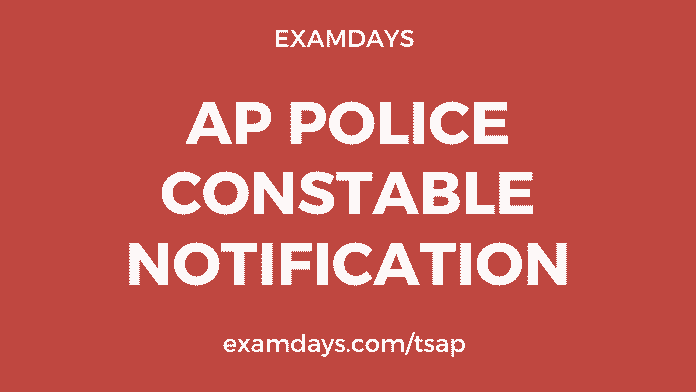 AP Police Notification 2021: Andhra Pradesh State Level Police Recruitment Board slprb.ap.gov.in team has scheduled to release the 450 vacancies for the FY 2021-22 from eligible candidates in Andhra Pradesh AP state to fill the vacancies in battalions forces in both Male and female categories. This time one woman/female battalions will be recruited for the women's safety in the Andhra Pradesh state.
As per the APPSC Calendar 2021 (Updated on 19.06.2021), Both Sub Inspector (SI) and Police Constable (PC) posts are released to fill the 450 vacancies in AP police notification 2021, eligible candidates can submit the online applications from September 2021 onwards.
The official announcement has been made on 25th June 2019 by AP Home Minister Mekathoti Sucharitha, which made a statement in the presence of the Media. Eligible candidates can fill the online application form n or before the last date of the application form.
After June 2021, the new notification release date are postponed by several reasons and finally, the COVID19 Pandemic, the recruitment team completely halted police notification for 11696 vacancies.
su_box title=" AP Police Notification 2021 Latest News" style="default" box_color="#F73F43″ title_color="#FFFFFF" radius="0″]
October 2021 Update

:

450 jobs are announced for FY2021-22, the online application link will be activated from Sept'21 onwards.

Look like the AP Police recruitment notification date will became to end. Once the COVID19 pandemic is completed, the AP Police recruitment team will announce the New Notification 2021 along with the application form and exam dates.
Candidates who are waiting for the AP Exam Calendar 2021, try to maintain their physical fitness and prepare for the PC and SI exams.
The new Notification schedule will be announced soon.
AP Police Notification 2020 is expected to schedule in August / September 2020.
AP Police 2020 notification is delayed due to the COVID19 pandemic.
The AP Police recruitment team SLPRB has not released any official information on AP Police 2020 recruitment.
AP Police Notification date, Exam Date, Events date (PET and PMT), Certificate dates available soon.
Eligible candidates start the exam preparation and train the Events.
AP police recruitment 2021 notification is scheduled.
[/su_box]
ఆంధ్రప్రదేశ్ పోలీసు డిపార్ట్మెంట్ నోటిఫికేషన్ FEB లేదా మార్చ్ నెలలో వచె అవకాశాలు కనిపిస్తునాయి. ఈ మద్య కాలాన్ని సద్వినియోగం చేసుకోవాలి, బౌతిగంగా fitness ఉండేలా చూసుకోవాలి. మరి పోలీసు కానిస్టేబుల్ ఇంటర్మీడియట్ అర్హత కాబట్టి ఎప్పటి నుండే పరీక్షకి prepare అయితే అన్నీవిధాల అబ్యర్దికి కలిసి వచ్చే అవక్సలు ఉన్నాయి.
ప్రతిస్తాత్మకంగా నిర్వ హిస్తున పోలీసు ఉద్యోగాలకు ఎంత ఎక్కువగా prepare అయితే అంతా మంచిది అంటున్నారు నిపుణులు. కలామ్ తో పాటు పరుగెత్తడం అలవాటు చేసుకోవాలి. అలా prepare అయితేనే పోలీసు ఉద్యోగం వస్తుంది లేదా చేసిన పని మొత్తం వృదా అవుతుంది.
As of now, after filling the earlier police notification 2018-19, still 678 vacancies in the Exchange department under the women police development category.
Upcoming AP Police notification 2021
Currently, the slprb.ap.gov.in recruitment team has finalizing 2018-19 recruitment for the postings and which is not enough for the entire AP state, State required some more force, which is decided by the after new government formation in May/June 2019. After YSRCP winning with 151 seats out of 175 in AP. The majority has been taken by YSRCP lead party.
As the same, governance has worked under YS Jagan. As per the CM instructions, Home minister Mekathoti Sucharitha made an official state on 13,059 vacancies on June 25th, 2019.
AP Police Recruitment 2021
Name of the Authority
Andhra Pradesh State Police Recruitment Board SLPRB (Ap State Police)
Name of the Posts
Police Constable & Sub Inspector

Number of Posts

450 Vacancies

Qualification
10th and Intermediate
Age Limit
18 to 40 Years

Notification Date

September 2021

(Official update)

Selection Procedure
Written Test & PET PMT
Official Website
slprb.ap.gov.in
AP Police Vacancy 2021
The official vacancies are confirmed by the AP Home Minister; there are no changes in the AP Police vacancies for the 2020-21 recruitment year. Candidates should be aware of the vacancies. The detailed vacancies as per the category wise will be intimated after the official notice announced by the slprb.ap.gov.in recruitment team.
| | |
| --- | --- |
| Announced by | CM YS Jagan Mohan Reddy |
| Official Note Announced on | 18th June 2021 |
| Number of Battalions | 4 |
| Women Battalions (included) | 1 |
| Number of Posts (Confirmed Posts) | 450 Vacancies |
AP Police Eligibility
The AP police eligibility is as per the post wise, which is Police Constable and Sub Inspector of Police (SI); Follow the below post eligibility guidelines for both Sub Inspector of Police (SI) and Police Constable (PC).
AP Police SI Eligibility
Candidates must and should have Intermediate qualification, recognized by any private and public institutions, and must be a board of AP.
Minimum pass out marks is enough for the SI post.
Noin local candidates are eligible under the non- local category.
AP Police Constable Eligibility
Candidate must and should have 10th / SSC / SSLC / Matriculation from any recognized Board.
Minimum pass out marks is enough for the Police Constable recruitment.
Non- Local candidates are also eligible under the non-local category.
AP Police Important Dates
Commencement of Official announcement: 18th June 2021
Commencement of Notification date: September 2021.
The online Application form starts from August / September 2021.
Last date of online application: September 2021.
Join the group for an instant update
Telegram Group Facebook Group
AP Police Exam Date
AP Police exam dates for 2021-22 are scheduled to after or end of the COIVD19 pandemic, but the official dates are not yet announced by the AP Police recruitment department. Once the dates are out, we will publish the remaining dates here.
AP Police Application Form
Andhra Pradesh AP police application form was available in the month for Jan 2020 for FY 2020-21 recruitment drive; eligible candidates can submit the online application on or before the last date of AP police application form.
Make the online application fee and apply accordingly.
Once submission completed, take the printout for future reference.
AP Police Constable Notification 2021
AP Police SI Notification 2021
AP Police Constable Exam Date 2021
Andhra Pradesh Police Constable exam date is not yet scheduled, after the announcement of the AP PC exam date 2020, we will post on this page for candidates' reference purposes.
AP Police Constable Prelims Exam Date 2021: Available Soon
AP Police Constable PET PMT Event Date 2021: Available Soon
AP Police Constable Mains Exam Date 2021: Available Soon
AP Police New Notification
Andhra Pradesh State AP police new notification is scheduled and expected to be released on Sept 2021 month, once the COVID19 pandemic is completed then AP police officials will release the new notification that.
Those who are waiting for the AP police new notification 2021, have to wait until the next update from the officials.
AP police recruitment board
Candidates can ask questions and doubts in the below comment box for clarifications.
Important Note: Those who have NOT received the AP Police Study Material book, please register once again and get the book within a WEEK.
Follow the below frequently asked questions FAQ, it may clear your doubts, try to read the complete questions before posting/asking questions.
Frequently Asked Questions
How to apply ap police constable online?
Candidates can use the official slprb.ap.gov.in official link and submit the online application form.
How to become a DSP in ap police?
For DSP, it required experience level and also good performance in the criminal cases solve then higher officials will definitely promote to DSP police level.
How to apply for AP Police?
Use the slprb.ap.gov.in official link and apply it.
How to become si of police in ap?
Graduation/Degree required for the application and prepare for the AP SI Syllabus and attempt the exam and crack the Events and get Selected.
When AP Police notification 2021 is released.?
Andhra Pradesh AP Police notification 2021 is expected to release in September.
How many Vacancies are available in AP Police 2021.?
The expected vacancies are 450 (both SI and Police Constable).
What is the AP Police Selection Procedure.?
Written Test, Events (PMT & PET), Mains Test, Medical Test.
Non Local candidates are eligible for AP Police.?
Yes, eligible under nonlocal criteria.
What is the age limit for SI in AP?
21 to 27 years
What is the qualification of the sub-inspector?
Any Degree or Equivalent
AP Police notification 2021 release date.?
September 2021
How to Download AP Police Constable Syllabus 2020.?
Check above the post, the AP PC syllabus was given for the candidate's reference purpose.
AP police 2021 notification when will release?
AP Police 2021 notification is scheduled to be expected in the month of September 2021.
AP police e challan
Candidates can use the Payment e challan for the Police application payment process, the details are given in the notification, Candidates can submit the application fee either in an online method or e challan method.
AP police board helpline number
Contact Number: 9441 450 639
Email ID: [email protected]
Contact Timings: 10:00 AM to 05:00 PM
Address
Andhra Pradesh State Level Police Recruitment (AP SLPRB), Mangalagiri, Andhra Pradesh 522503.