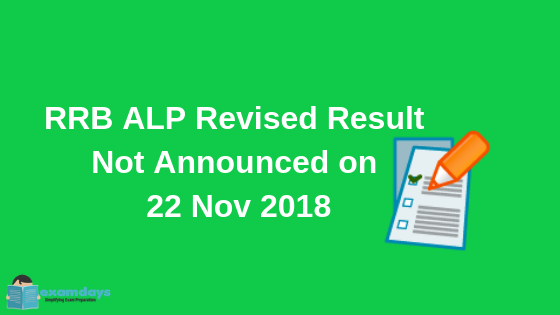 RRB ALP Revised Results Not Announced on November 22, 2018:  The Revised RRB ALP Results are not announced on November 22, 2018, which are postponed to November 26, 2018. Those who are tried for RRB ALP results aware this post information. Results are delayed due to technical issues, there are lakhs of candidates registration number not loaded properly.
RRB ALP Revised results will be available on November 26th, 2018
RRB ALP Revised Result NOT ANNOUNCED ON NOVEMBER 22 AND IT AVAILABLE ON NOVEMBER 26
Revised RRB ALP Result 2018 | RRB ALP Revised Results 2018
Final RRB ALP Results will be released after re-verification previous RRB ALP Key, This time RRB taking responsibility to candidates objections to review their concerns and requests and already started to review all key and reverified all answers paper after the new key.
How to Check the Revised RRB ALP Result 2018
Those who appeared for RRB ALP examination of Prelims can Check Here
Candidates have to ready with RRB ALP registration Number with Date of birth to getting final RRB ALP Results 2018.
All Revised RRB ALP Result will be available from November 20th Onwards, Use Candidates login credentials to download the RRB ALP Results 2018.