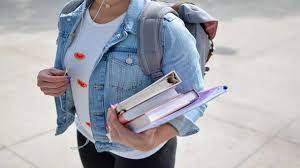 Getting into college can be a challenge, but it's well worth the effort. A college education can grow your intellect, lead you to a better job, help you make lifelong friends and connections, and ultimately make you a more well-rounded citizen.
So if you have dreams of gaining a college education, this article is for you. Here are some different ways to increase your chances of getting into a university program:
Earn good grades in high school
Getting into college starts with getting good grades in high school. A survey by the National Association for College Admission Counseling (NACAC) shows that around 3 in 4 colleges consider high school grades to be considerably important in admission decisions.
Taking advanced courses can help you stand out as well. Think AP, honors, and IB classes. Other academic awards, honors, and extracurriculars can also boost your standing.
Score high on the SAT and ACT
Standardized tests like the SAT and the ACT are required for admission into most universities. According to the NACAC survey, 4 in 5 colleges consider them moderately to considerably important.
Why? The SAT and ACT test your cognitive ability in math, writing, reading, science, and logical reasoning. If you perform well, it's a good indicator that you'll do well in college. So even if a college doesn't require it, it's best to submit your scores anyway.
Many students take the SAT and ACT in their junior year of high school. That way, you have time to retake the exams in your senior year if you're not satisfied with your score.
The best way to prepare for taking the SAT and ACT is to enroll in a self-paced online ACT and SAT program. You can also hire a tutor, buy an exam prep book, and take free practice tests online. The more you prepare, the better you'll score.
Write a compelling personal statement
A personal statement (aka statement of purpose) is an essay that shows who you are outside of academics. Use it to tell your story, show your personality, and stand out to admissions counselors.
Over half of the colleges surveyed by NACAC considered the personal statement to be at least moderately important in admission decisions.
Before you submit your personal statement, however, go through several revisions and have someone else read over it. Your essay should be engaging and error-free.
Get strong letters of recommendation
Most universities require you to submit one to three recommendation letters. These are letters from teachers, faculty members, or school counselors that vouch for your academic capability and good character.
Choose people that know you well to write your letters of recommendation. If you feel like the person wouldn't write a strong letter, think of someone else.
Then ask the people you've selected well in advance. It's polite to give them at least a month. The more time you give someone to write you a letter of recommendation, the less rushed and better quality it will be.
To make the task easier, give the writers of your letters of recommendation your résumé or even an outline of things to touch on.
Apply to many universities
Don't put all your eggs in one basket by applying to only your top choice. It's best to apply to multiple universities at a time. That way, you have a better chance of being accepted somewhere.
One way to go about this is to choose universities that fall into three categories: safety, match, and reach schools. Safety schools are ones that you are confident about getting accepted into, match schools are ones you have a decent shot at getting into, and reach schools are ones you are unlikely to get into.
If you need help deciding on where to apply, have your guidance counselor help you narrow down your choices.
Apply early
Another way to increase your chances of being admitted is to apply early. Many universities offer early admission and early action applications. The former is binding (meaning you must commit to the college if accepted) and the latter is non-binding (meaning you don't have to accept).
Early admission and early action applications are a great way to stand out. Plus, they give admission counselors more time to go over your application before the rush (they're usually due in November).
Manage your online reputation
These days, it's important to have a clean online presence. So remove any inappropriate or offensive photos or posts from your social media profiles.
You can also set your social media profiles across Facebook, Twitter, Instagram, TikTok, and LinkedIn to private to make it harder for college admissions offices to see them.
Try googling yourself to make sure nothing bad or questionable about you is floating around the internet. And use a professional email address that includes your name, not one with your middle school nickname.
Demonstrate interest in the college program
Showing interest in a particular college program can go a long way in boosting your admission chances. In fact, the NACAC survey showed that 40% of colleges consider students' demonstrated interest an important admission factor.
There are a few ways to do this. You can visit the campus and get a tour, contact college representatives and ask to have an interview, get in touch with professors from your prospective major, participate in school events like college fairs, and follow the university's social media profiles.
Showing interest in these ways will help admission representatives put a face to your name and increase your chances of getting accepted.
Proofread your application
Don't submit your application without proofreading it first. You want to eliminate all spelling and grammar mistakes. The slightest error could turn off admissions counselors.
Never rely on spell-check alone. Read your application out loud or have a text-to-speech app like Speechify read it to you. It's often easier to hear mistakes than it is to see them.
Then have someone else look over your application. A second pair of eyes can spot a lot of errors that you can't.
Ask for help
Lastly, ask for help. Applying for college can be a daunting task, but don't let that stop you. There are plenty of people who have gone through the process before.
Consult your high school guidance counselor, teachers, and family and friends who have been to college—anyone familiar with the admissions process. Most will be more than happy to help you through it.
Adding it all up
Ultimately, getting into college takes a lot of hard work and support from family and others. But if you start early and break up the work into manageable steps, you'll be well on your way to getting into your dream program.
If you're waitlisted, don't give up. Make sure the university knows that you are still interested. And if you don't get into the exact school you want, that's okay. You can always go to another college or apply again next year.
Join Examdays Telegram
For more details about the Telegram Group, Click the Join Telegram below button.

In case of any doubt regarding Telegram, you can mail us at [email protected].