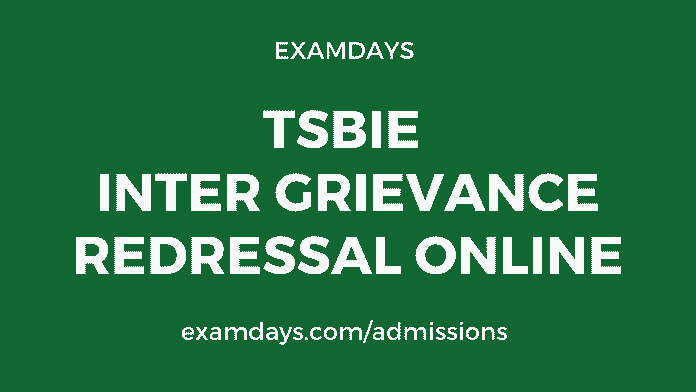 Board of Intermediate Education of Telangana State (TS BIE) has released Grievance Redressal online portal for the students, those who are facing issues and mistakes in the inter results, they can file the Grievance Redressal in online mode, after submission of Grievance Redressal, the official will verify the problems and fixed it asap.
Those who want to correct the marks or done any mistakes have approached the TSBIEgrievance redressal online, use the log in option ad raise the dispute/issue online only.
TSBIE Grievance Redressal Online
The TS Inter Grievance Redressal system online website has released on 07.01.2020 in Telangana BIE office based on Last year's (2019-20) issues and protests against paper correction mistakes.
From 2020-21 onwards, Telangana Intermediate students can file the complaint against the intermediate first year and second-year marks in the official website of bigrs.telangana.gov.in and get the solution from TS BIE officials.
TS Inter Grievance Compalint
తెలంగాణ ఇంటర్మీడియట్ 2019 లో జరిగిన తప్పులకి చాలా మంది ఇంటర్ విద్యార్దులు చనిపోయారు, ఇంటర్ మార్కుల లో తప్పులు దొర్లడంతో విద్యార్డుల ప్రాణాల మీదకి వచ్చిన సంగతి తెలిసిందే, దానిని దృస్టిలో పెట్టుకొని తెలంగాణ ఇంటర్మీడియట్ బోర్డు bigrs.telangana.gov.in ఆన్లైన్ పోర్టల్ ని విద్యార్డులకి అందుబాటులోకి జనవరి 7వ తేదీన తెచ్చింది. కావున విద్యార్దులు ఇంటర్ మార్కుల మీద ఏమైనా సందేహం ఉన్నచో వెబ్సైట్ లో కంప్లయింట్ చేయవచ్చును.
TSBIE Grievance Redressal Status
Those who have questions and doubts against Intermediate marks and grades, then they can fill the online request on official website bigrs.telangana.gov.in.
Enter the mobile number and verify it with OTP details. And then the application form will be opened, fill the details and finally, submit the complaint to request on intermediate marks and get the proper solution after a specific time.
The TSBIE Grievance Redressal Status will be changed after the completion of student requests.
What is the TSBIE Grievance Redressal website link.?
bigrs.telangana.gov.in
How many days it takes for complaint solve.?
Based on the complaint status
Can I complain for Inter marks.?
Yes, both TS Inter first year and second year are eligible.
Is Aadhar Card necessary or complaint.?
No
How to complain about the TS Grievance Redressal website.?
Use mobile number & verify the OTP and fill the available fields.