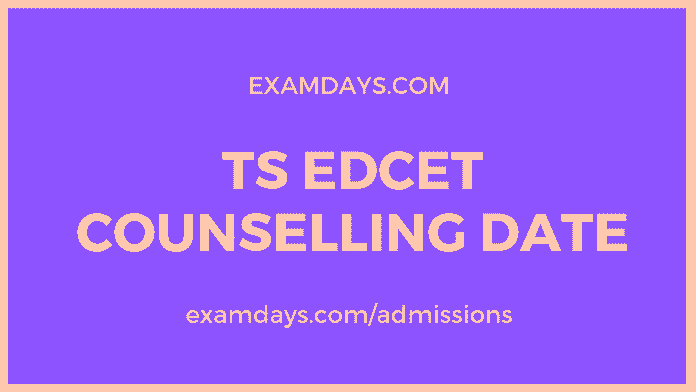 TS Edcet Counselling Date
TS Edcet 2nd Round Allotment Order 2019: Telangana State Education Common Entrance Test TS Edcet entrance exam team has inviting qualified candidates for web entry option, counseling dates, and document verification (DV) for TS EDCET 2019.
The qualified candidates can verify the complete counseling schedule information was listed in below as per the official note wise. The TS Edcet 2nd allotment order has released on 11.09.2019, candidates now download the complete allotment orders from today onwards.
TS Edcet 2nd Round Allotment
| | |
| --- | --- |
| Name of the Authority | TS Ed.CET 2019 |
| Name of the Entrance Exam | Telangana State Common Entrance Test |
| Who Conducted | Osmania University |
| Last date of apply | 10.04.2019 |
| TS EDCET Exam Date | 31.05.2019 (11.00 AM to 1.00 PM & 3.00 PM to 5.00 PM) |
| Official Website | edcet.tsche.ac.in |
use the login details for the 2nd round allotment order 2019 from the official website
TS Edcet Counselling Date
Certificate Verification
Methodology
Time
Ed.CET
Rank
Web Options Date
Dates
From
To

16-08-2019

English

Physical Science

09:00 AM

01:00 PM

1               Last Rank

1               Last Rank

17-08-2019 to 18-08-2019

17-08-2019

Mathematics

09:00 AM

01:00 PM

1               3000

3001         6000

18-08-2019 to 19-08-2019

18-08-2019

Mathematics

09:00 AM

01:00 PM

6001         9000

9001         Last Rank

19-08-2019 to 20-08-2019

19-08-2019

Biological

Sciences

09:00 AM

01:00 PM

1               3000

3001         6000

20-08-2019 to 21-08-2019

20-08-2019

Biological Sciences
09:00 AM

01:00 PM

6001         9000

9001         Last Rank

21-08-2019 to 22-08-2019

21-08-2019

Social Studies

09:00 AM

01:00 PM

1               4000

4001         8000

22-08-2019 to 23-08-2019

22-08-2019

Social Studies

09:00 AM

01:00 PM

8001         12000

12001       Last Rank

23-08-2019 to 24-08-2019
TS EDCET Helpline Centers
| | | |
| --- | --- | --- |
| S.No | District | Name of the Helpline Centers |
| 1 | Adilabad | Govt. Degree College for Men, Adilabad |
| 2 | Hyderabad | Jawaharlal Nehru Technological University Kukatpally, Hyderabad |
| 3 | Hyderabad | University PG College, S.P Road, Secunderabad |
| 4 | Hyderabad | Nizam College, Basheerbagh, Hyderabad.(Special Category from 16th, 17th and 18th ) and all days general categories |
| 5 | Karimnagar | University College of Science, Main Campus, Malkapur Road, Satavahana University, Karimnagar |
| 6 | Khammam | SR & BGNR Govt. College, Khammam |
| 7 | Mahaboobnagar | Palamuru University, Mahaboobnagar |
| 8 | Siddipet | Govt. Junior College (Boys), Siddipet, Medak |
| 9 | Nalgonda | Nagarjuna Govt. Degree College, Nalgonda |
| 10 | Nizamabad | Giriraj Degree College, Nizamabad |
| 11 | Warangal | Directorate of Admissions Kakatiya University Campus, Vidyaranyapuri, Warangal (Special Category from 16th, 17th and 18th ) and all days general categories |