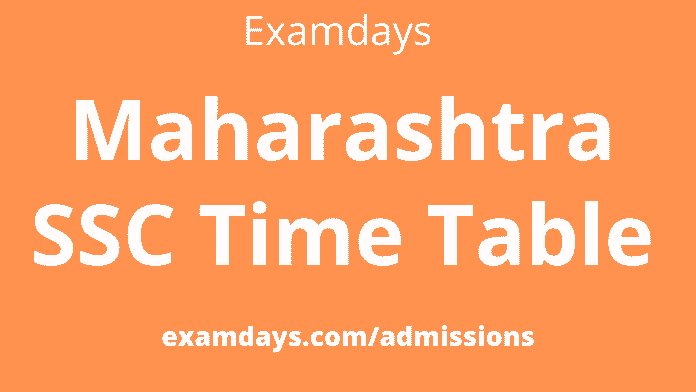 Maharashtra SSC Exam Date: Maharashtra State Board of Secondary and Higher Secondary Education MSBSHSE board has released the SSC 10th class exam date for the 2023-24 year. Those who are waiting for the SSC 10th class exam dates, have to download the official link from the below official link. We have given the important aspects of the exam schedule details.
For Maharashtra SSC Exam Date 2024, check the detailed exam schedule along with the subject name, detailed information is available on this page for the candidate's reference purposes. There are lakhs of candidates waiting for the timetable and data sheet, they can download the complete exam scheduled form below;
Maharashtra 10th Exam Date 2024
| | |
| --- | --- |
| Name of the Authority | MSBSHSE Exam Board |
| Exam Name | Class 10th / SSC Exams |
| State | Maharashtra |
| Exam Date | March to April 2024 |
| Category | Date Sheet / Time Table |
| Authority | MSBSHSE Exam Board |
| Exam Type | SSC / 10th class |
| Official Website | mahahsscboard.in |
Maharashtra SSC Date Sheet 2024
MH 10th class SSC students have to visit the official link mahahsscboard.in and download the datasheet information for the next upcoming examination.
Once the date sheet is downloaded then check the exam date schedule, which begins from March 2024 onwards, and exams are ended by April 2024.
Maharashtra 10th timetable 2024 is given in the below official link, Download the pdf copy and keep the sheet until the exams are finished.
The below official link gives more information about the SSC data sheet, which is important for the regular updates and verification process. Candidates can check the important aspects of the exam date, and SSC students can prepare for the exam once the exam date is scheduled.
Morning Shift Time: 11 AM to 2 PM
Afternoon Shift Time : 3 PM to 6 PM
March 1, 2024
Marathi Hindi Gujarati Urdu Tamil Telugu Kannada Malayalam Sindhi Bengali Punjabi
German French
March 2, 2024
Marathi Kannada Tamil Telugu Malayalam Sindhi Bengali Punjabi
Second or third language – Marathi (Composite course)
March 4, 2024
Multi Skill Assistant Technician/Introduction to Basic Technology Automotive Service Technician Store Operation Assistant Assistant Beauty Therapist Tourism and Hospitality – Food & Beverage Service Trainee Agriculture – SolanaceousCrop Cultivator Electronics & Hardware FieldTechnician – Other Home Appliances Home Care- Home Health Mechanical Technology Electrical Technology Electronics Technology Power-Consumer Energy Meter Technician Physical Education (Sport)-Early Year Physical Activity Facilitator Apparels-Sewing Machine Operator Plumber General
March 5, 2024
Urdu Gujarati Sanskrit Pali Ardhamagadhi Persian Arabic Avesta Pahalavi Russian
Second or third language (Composite course) Urdu Sanskrit Pali Ardhamagadhi Arabic Persian French German Russian Kannada Tamil Telugu Malayalam Sindhi Punjabi Bengali Gujarati
March 7, 2024
English
March 9, 2024
Hindi
March 11, 2024
Mathematics part- 1 Arithmetic
March 13, 2024
Mathematics part- 2 Geometry
March 15, 2024
Science and Technology Part- 1 Physiology, Hygiene, and Home Science
March 18, 2024
Science and Technology Part- 2
March 20, 2024
Social Science Paper -1
March 22, 2024
Social Science Paper – 2