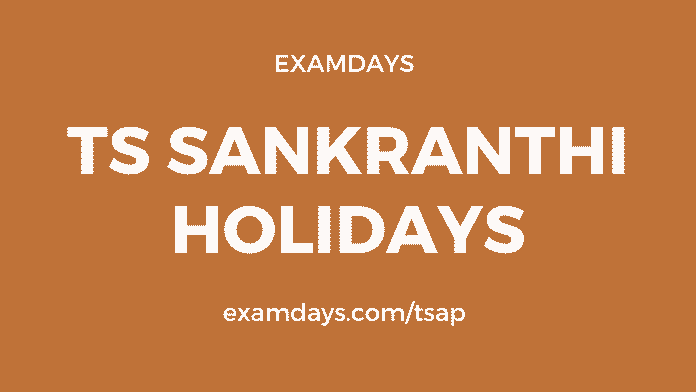 TS Sankranthi Holidays: తెలంగాణ రాష్టా గవర్నమెంట్ 2021 సంక్రాంతి నాటికి సెలవులను ప్రకటించింది, స్కూల్ మరియు ఇంటర్మీడియట్, కాలేజీ, ఉద్యోగుల కు సెలవులను అందుబాటులోకి తెచ్చింది. తెలంగాణ రాష్టం లో సంక్రాంతి సెలవులు జనవరి 10 నుండి 17 తేదీ వరకు అంటే మొత్తంగా 7 రోజుల సెలవులను ప్రకటించింది.
Colleges and Schools Open from 18th Jan 2021 Onwards
TS Sankranthi Holidays 2021
12.01.2021 Updated: TS School and Colleges will open from 18th January 2021 onwards, Sankranthi Holidays till 17th Jan 2021 only.
TS Government has issued Sankranthi Holidays from 10th Jan 2021 onwards.
The Holidays remain from 10th to 17th Jan 2021.
Government of Telangana already released TS Holidays 2021 List, we have uploaded in below for students and employee reference purpose.
Download the below 2021 Holiday list.
విద్యార్దులు తాము చదివే విద్యా కళాశాలలో సంక్రాంతి సెలవుల ప్రకటనను సారి చూచుకోవాలి.
Telangana State TS Government has issued Sankranthi holidays for the 2021 year, those who are in Schools, Intermediate, Employee (govt) have to check out the complete Sankranthi schedule notification in respective educational institutions.
The TS Sankranthi holidays declared from January 10 to 17, 2021.
The Telangana State Government has minimized holidays from 6 to 4 like today, On January 12th is Sunday, So total students will get 7 days holidays (including Sunday).
TS Govt Holidays List 2021 PDF
TS Sankranthi Holidays Date 2021?
Telangana TS Sankranthi Holidays falling from 10.01.2021 to 17.01.2021, (almost 7 days holidays declared).
Where to check the TS Sankranthi Official Holiday Document?
The Sankranthi Holiday list is available on the TS GOV In official Website.