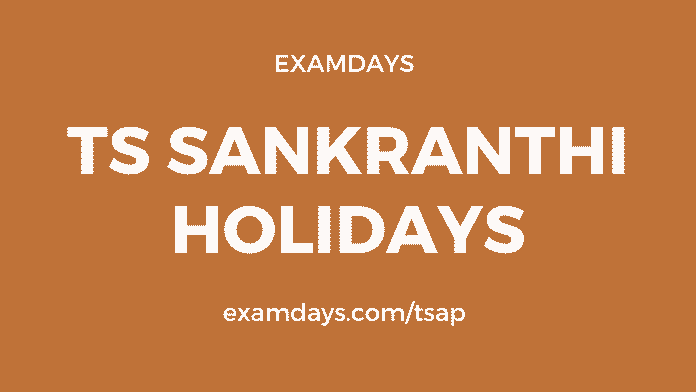 తెలంగాణ రాష్టా గవర్నమెంట్ 2020 సంక్రాంతి నాటికి సెలవులను ప్రకటించింది, స్కూల్ మరియు ఇంటర్మీడియట్, కాలేజీ, ఉద్యోగుల కు సెలవులను అందుబాటులోకి తెచ్చింది. తెలంగాణ రాష్టం లో సంక్రాంతి సెలవులు జనవరి 13 నుండి 16 తేదీ వరకు అంటే మొత్తంగా 4 రోజుల సెలవులను ప్రకటించింది.
విద్యార్దులు తాము చదివే విద్యా కళాశాలలో సంక్రాంతి సెలవుల ప్రకటనను సారి చూచుకోవాలి.
Telangana State TS Government has issued Sankranthi holidays for the 2020 year, those who are in Schools, Intermediate, Employee (govt) have to check out the complete Sankranthi schedule notification in respective educational institutions.
The TS Sankranthi holidays declared from January 13 to 16, 2020.
The Telangana State Government has minimized holidays from 6 to 4 like today, On January 12th is Sunday, So total students will get 5 days holidays (including Sunday).