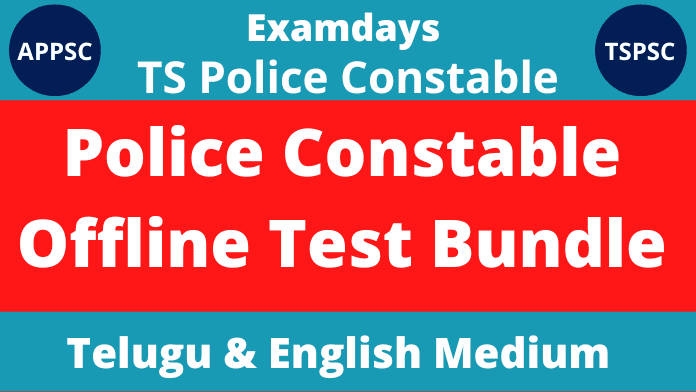 TS Police Constable Mock Test in Telugu: Are you a Telangana Police Constable aspirant looking for the offline mock tests, then you are on the right page for the offline mock tests bundle access? One time download of all available 10 Police constable mock tests; these mock tests are available for instant download. Use the below official Examdays link and download the complete offline test bundle.
With these Police Constable offline bundles, it helps to prepare the offline exam preparation, which makes you prepare in key areas, where more topics are asked in previous examinations. We cover most of all topics prior to frequently asked topics. Download the topics and prepare for the exam accordingly.
TS Police Constable Mock Test Bundle
తెలంగాణ పోలీసు కానిస్టేబుల్ పరీక్ష 21 ఆగష్టు 2022న ఉదయం 10am నుండి మద్యానం 1pm వరకు తెలంగాణ ప్రాంతములో 40 సెంటర్లలో నిర్వహించబోతున్నారు, కావున అబ్యర్డులు ఇప్పటి నుండే offline మరియు Online లో పరీక్షకి సంబందించి అన్నీ mock టెస్టులను పూర్తిగా పరీక్షకు సన్నద్దము కావలెను.
తెలంగాణ పోలీసు పరీక్షల తేదీలు ఇలా ఉన్నాయి;
పోలీసు సబ్ ఇన్స్పెక్టర్ పరీక్ష తేదీ – 07.08.2022 (సమయం 10am నుండి 1pm వరకు)

20 సెంటర్లలో పరీక్ష నిర్వహిస్తారు.

హాల్ టికెట్ తేదీ – 30.07.2022

పోలీసు కానిస్టేబుల్ , ట్రాన్స్పోర్ట్ కానిస్టేబుల్, మరియు పి&ఈ కానిస్టేబుల్ పరీక్ష తేదీ – 21.08.2022 (సమయం 10am నుండి 1pm వరకు)

40 సెంటర్లలో పరీక్ష నిర్వహిస్తారు.

హాల్ టికెట్ తేదీ – 10.08.2022
How to Download Contable Mock Test Bundle
Use the below link and subscribe for the PDF BUNDLE.
Once the subscription is successful, the #ExamdaysTSAP team will contact you via Email along with 10 PDF Constable Bundles.
Rs.599/- Now the offer Price is Rs.99/- Only
Once the above subscription is completed, then submit the below form for the choice of medium bundle you're looking.
Police Constable PDF bundle is available in ENGLISH and TELUGU medium, candidates can select their choice of language after the subscription is paid.
ENROLLED CANDIDATES WILL GET PDF BUNDLE EMAIL WITHIN 1 TO 8 HOURS.
Top selling Mock Tests bundle, Buy before exam date arrives;