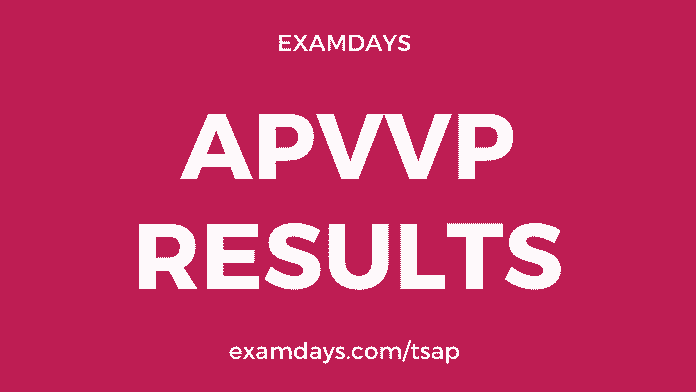 APVVP Results 2021: Andhra Pradesh Vaidya Vidhana Parishad APVVP has released various results information on various posts, those who are waiting for the APVVP results have to download the results as per the post wise. In the COVID19 Pandemic time, the Medical related results are released. Check the released AP VVP results online for job reporting purposes.
Check the APVVP results 2021 are released on 17th August 2021 online, candidates can download the civil surgeon results. The shortlisted candidate's information was updated below this page for the candidate's reference purpose. The details are available below for reference purposes.
August 2021 Updated: Last date of the APVVP Objections submission
Objections should be submitted on Email (application form is available) along with document evidence. apvvp results 2021 are released.
APVVP Gynaecology Results
APVVP Optholmology Results
APVVP Orthopaedics Results
APVVP Paediatrics Results
APVVP Pathology Results
APVVP Psychiatry Results
APVVP Radiology Results
APVVP Anaesthesia Results
APVVP Dermatology Results
APVVP ENT Results
APVVP General Medicine Results
APVVP General Surgery Results
APVVP Results 2021 Latest Info
17th August 2021 Update

: AP VVP Provisional List of CAS Released for the notification number 01/2021.
APVVP Merit List 2021 is released, available for download.
APVVP 5th Selection List Released.
APVVP Civil Surgeon results are released, refer below link.
Medical all department results are released, those who are waiting for the results have to download it from the official website.
APVVP official website is apvvp.nic.in
Must and should report the department for the placement and collect the offer letter.
APVVP Results 2021
| | |
| --- | --- |
| Name of the Authority | Andhra Pradesh Vaidya Vidhana Parishad APVVP |
| Post Name | Various Medical Posts |
| Number of Posts | As per the Post wise |
| State | Andhra Pradesh |
| Final Results Date | Expected August Last Week |
| Provisional Cal Letter | Cover Letter |
| Official Website | apvvp.nic.in and cfw.ap.nic.in |
APVVP Results 2021 Date
Those who are waiting for the APVVP results have to check out in the below available official links.
31.08.2020
APVVP Results for Civil Surgeon Post – Released Download PDF
03.12.2020 Updated
APVVP- 5th selection lists CAS Specialist Recruitment 2020.
MPHW(F)/ANM Course Supplementary Examination Results (September 2020)
16th July 2021 Updated
APVVP -DAS Final Merit List of Recruitment Notification 01/2020.
17th August 2021 Update
Instructions to the applicants.
1.CAS-Gynaecology Provisional list.
2.CAS-Paediatrics Provisional list.
3.CAS-Anaesthesia Provisional list.
4.CAS-General Medicine Provisional list.
5.CAS-General Surgery Provisional list.
6.CAS-Orthopaedics Provisional list.
7.CAS-Pathology Provisional list.
8.CAS-Opthalmology Provisional list.
9.CAS-Radiology Provisional list.
10.CAS-Psychiatry Provisional list.
11.CAS-Dermatology Provisional list.
How to check the APVVP Results 2020?
Visit the official website for Health and welfare commission http://cfw.ap.nic.in/ and check the detailed post-wise results.
How to Submit the APVVP Objections?
By 18th August 2020, Candidates have to mail the objections along with proof documentation to [email protected]
Where should I get the objections proof document?
From various books or Search on Google for the supporting document.