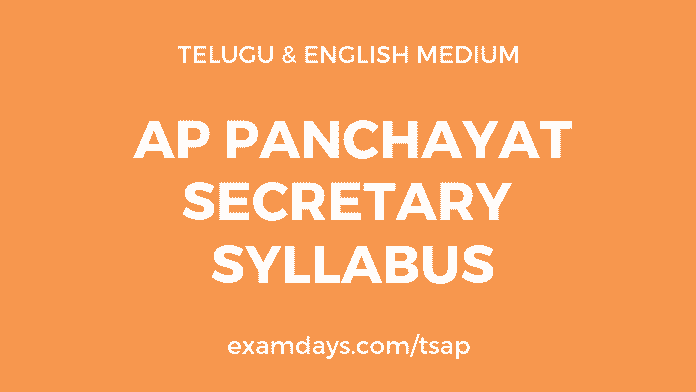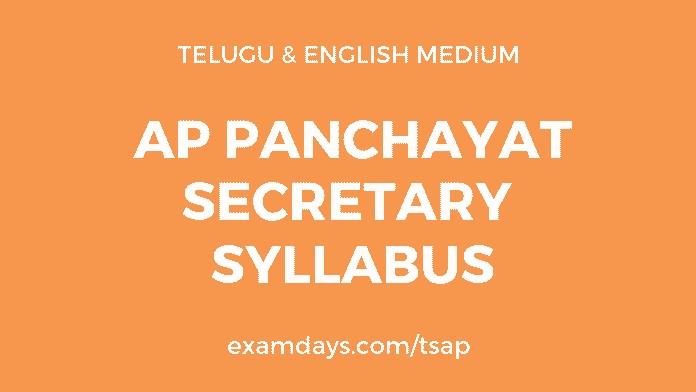 AP Panchayat Secretary Syllabus
AP Panchayat Secretary Syllabus 2019: Andhra Pradesh Panchyat Secretary notification 2019 was released on 27th July 2019 to fill the 7040 vacancies for the 2019-2020 year, those who have applied for the post check the detailed AP panchayat secretary syllabus in this post and also download the complete syllabus pdf document.
AP Panchayat Secretary Syllabus
The overall syllabus and exam pattern is listed below, candidates can verify the complete syllabus and notification in this Examdays blog.
AP Panchayat Secretary Exam Pattern
Written examination
(Objective Type)
No., of
questions
Duration
(minutes)
Maximum
Marks
Part- A : General Studies and mental ability
75
75
75
Part– B :History, Economy, Geography, Politics etc.,
75
75
75
TOTAL
150 Marks
AP Panchayat Secretary Syllabus

PART-A: GENERAL STUDIES AND MENTAL ABILITY 
General Mental ability and reasoning.
Quantitative aptitude including data interpretation.
Comprehension – Telugu & English.
General English.
Basic Computer Knowledge.
Current affairs of regional, national and International importance.
General Science and its applications to the day to day life, Contemporary development in science and Technology and information Technology.
Sustainable Development and Environmental Protection.
PART-B: History & Culture of India with specific focus on AP.
Indian polity and governance: constitutional issues, 73/74th Amendments, public policy, reforms ad centre – state relations with specific reference to Andhra Pradesh.
Economy and Planning in India with emphasis on Andhra Pradesh.
Society, Social justice, rights issues.
Physical geography of Indian sub-continent and Andhra Pradesh.
Bifurcation of Andhra Pradesh and its Administrative, Economic, Social, Cultural, Political and legal implications / problems.
Key welfare & development schemes of Government of Andhra Pradesh.
Women empowerment and economic development through self help grounds / community based organizations with focus on weaker sections.
AP Panchayat Secretary Syllabus in Telugu
పార్ట్-ఎ: సాధారణ అధ్యయనాలు మరియు మానసిక సామర్థ్యం
సాధారణ మానసిక సామర్థ్యం మరియు తార్కికం.
డేటా వ్యాఖ్యానంతో సహా పరిమాణాత్మక ఆప్టిట్యూడ్.
కాంప్రహెన్షన్ – తెలుగు & ఇంగ్లీష్.
జనరల్ ఇంగ్లీష్.
ప్రాథమిక కంప్యూటర్ పరిజ్ఞానం.
ప్రాంతీయ, జాతీయ మరియు అంతర్జాతీయ ప్రాముఖ్యత యొక్క ప్రస్తుత వ్యవహారాలు.
జనరల్ సైన్స్ మరియు రోజువారీ జీవితానికి దాని అనువర్తనాలు, సైన్స్ అండ్ టెక్నాలజీ మరియు ఇన్ఫర్మేషన్ టెక్నాలజీలో సమకాలీన అభివృద్ధి.
సుస్థిర అభివృద్ధి మరియు పర్యావరణ పరిరక్షణ.
పార్ట్-బి: AP పై ప్రత్యేక దృష్టి సారించిన భారతదేశ చరిత్ర మరియు సంస్కృతి.
భారతీయ రాజకీయాలు మరియు పాలన: రాజ్యాంగ సమస్యలు, 73/74 వ సవరణలు, ప్రజా విధానం, సంస్కరణల కేంద్రం – ఆంధ్రప్రదేశ్‌కు సంబంధించిన నిర్దిష్ట సూచనలతో రాష్ట్ర సంబంధాలు.
ఆంధ్రప్రదేశ్‌కు ప్రాధాన్యతనిస్తూ భారతదేశంలో ఆర్థిక వ్యవస్థ మరియు ప్రణాళిక.
సమాజం, సామాజిక న్యాయం, హక్కుల సమస్యలు.
భారత ఉపఖండం మరియు ఆంధ్రప్రదేశ్ యొక్క భౌతిక భౌగోళికం.
ఆంధ్రప్రదేశ్ మరియు దాని పరిపాలనా, ఆర్థిక, సామాజిక, సాంస్కృతిక, రాజకీయ మరియు చట్టపరమైన చిక్కులు / సమస్యల విభజన.
ఆంధ్రప్రదేశ్ ప్రభుత్వ ముఖ్య సంక్షేమం మరియు అభివృద్ధి పథకాలు.
బలహీన వర్గాలపై దృష్టి సారించి స్వయం సహాయక మైదానాలు / సమాజ ఆధారిత సంస్థల ద్వారా మహిళా సాధికారత మరియు ఆర్థిక అభివృద్ధి.