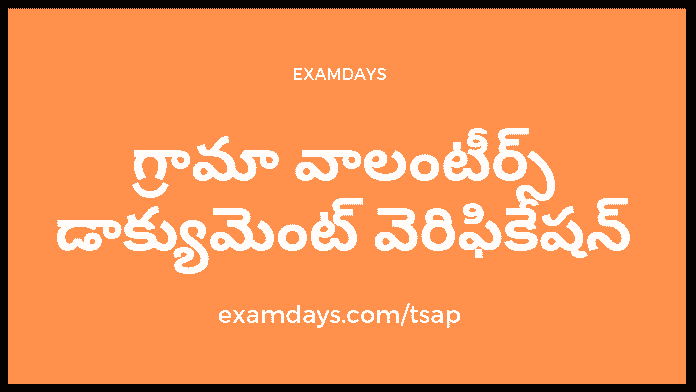 AP Grama Volunteers Document Verification
Andhra Pradesh State AP Grama Volunteers online applications end on 5th July 2019, those who have filled the online application can check the application status (either it was rejected or accepted). AP grama volunteer document verification starts from 11th July 2019 onwards and the same time the Grama Volunteers interview schedule also conducted from 11th July to 25th July 2019.
Those who have eligible for the Interviews can attend the Interviews along with the document verification method. The complete grama volunteer schedule available in below list.
గ్రామా వాలంటీర్స్ డాక్యుమెంట్ వెరిఫికేషన్
గ్రామా వాలంటీర్స్ డాక్యుమెంట్ వెరిఫికేషన్ కి అర్హులైన అభ్యర్థులను ఫోన్ కాల్స్ ద్వారా లేదా మెరిట్ లిస్ట్ ఆధారంగా పిలుస్తారు. అభ్యర్థులు తమ అప్లై చేసిన గ్రామా పంచాయతి కార్యాలయాన్ని వెళ్లి డాక్యుమెంట్ సమర్పించాలి. ఆహ్ తరవాత వారు కేటాయించిన డేట్ మరియు టైం లో ఇంటర్వ్యూ కి అటెండ్ అవ్వాలి.
గ్రామా వాలంటీర్స్ సెలెక్షన్స్ పూర్తిగా మెరిట్ మరియు ఇంటర్వ్యూ మీద ఆధారపడి ఉంది. సో, అభ్యర్థులు కాస్త జాగ్రత్తగా ఇంటర్వూస్ ఇవ్వ వలసింది గ కోరుతున్నాము.
AP Grama Volunteer Edit Option
AP Grama Volunteer Application Status
AP Grama Volunteer Document Verification Date: 11.07.2019
AP Grama Volunteer Interview Date: 11.07.2019 to 25.07.2019
Announcement of results: 01.08.2019.
AP Grama Volunteer Training Date: 12.08.2019 (3 days training)
AP Grama Volunteer Reporting Date: 15.08.2019.